Triple Asset Romps Home In MM Tassie Classic
Details

Published: Wednesday, 23 February 2011 19:35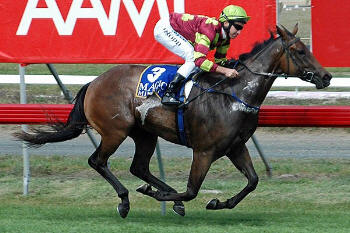 Top filly Triple Asset booked a ticket to Melbourne when she lived up to her short quote for a brilliant win in the $50,000 Shaw Magic Millions Tasmanian 2YO Classic (1200m) at Mowbray this afternoon.

Trainer John Keys fought back tears after the brilliant three and a quarter length victory, declaring the filly had done her job in her home state and deserved a chance on the mainland.
"It's a big relief," Keys said. "It's been building all week."
"It really means a lot to win the race," he added. "It really does!"
"When she went past the post like that - it's very special," an emotional Keys added.
Triple Asset was sent out a hot favourite after a string of excellent runs including a close up second to Golden Archer in the recent Gold Sovereign Stakes.
The daughter of Nadeem boasts two wins and three placings from her five career outings and more than $80,000 in earnings already.
Right from the first time she was tested in track work Triple Asset showed she had an extremely bright future.
"I was told right from the start she was something else by Tegan (track rider) and she was a very smart horse," Keys noted.
"And Michael Rodd has backed that up by getting off her (today) and saying she was too good for the locals and she should head to Melbourne."
"We'll have a team meeting this week - but we'll more than likely send her to the paddock - but Melbourne is a great option to have."
Triple Asset was ridden to victory by Melbourne Cup winning jockey Michael Rodd who picked up the ride after regular rider Lincoln Coffey was injured earlier in the day in a barrier mishap.
"I feel so sorry for Linc," Keys said. "To have been a race like this on Cup Day as well as missing out on the Cup as well."
"He'd done so much work on the horse and it's definitely sad for him."
Rodd said the filly deserved a tilt at races in Melbourne in the future.
"She's obviously well educated," Rodd said. "Lincoln has done a lot of work on her - you certainly feel sorry for him."
"She pinged out of the barriers. I was always going to be positive. She showed good speed and I was able to get to the front and she switched off and settled nice."
"Just before the turn I gave her a little squeeze just to get her rolling and it was all over then."
"She went to the line not being fully extended," he added. "She's a nice filly who would be competitive in Melbourne."
"She's got a great nature and a great attitude and she has a massive stride for a smaller horse," Rodd summed up.
Keys and connections purchased Triple Asset for $28,000 at last year's Magic Millions Tasmanian Yearling Sale.
"She was plus GST and it was a pretty high amount at the time for Tasmania," Keys said. "But it's all looking good now."
At yesterday's 2011 Tasmanian Yearling Sale the Churchill Downs half sister to Triple Asset topped the sale when selling to Victorian trainer Mark Riley for $62,000.
"We bid to $60,000 but in the end we were the underbidders," Keys reported.
The father-son training team of David and Scott Brunton were more than delighted with their two fillies Buzzing Along and Cambalara running second and third respectively.
"They both ran well," Scott Brunton said. "The winner is very smart and it's no disgrace being beaten by her."
The Bruntons had already prepared a pair of winners on the day and their stable star Lady Lynette was due to run later in the Vamos Stakes.
The result was celebrated by the Whishaw family who bred and sold Triple Asset through their Armidale Stud draft.
Pictures: Greg Irvine

TOTE Tasmania Adopts Typhoon Technology
Details

Published: Friday, 10 June 2011 07:10
Tote Tasmania Ltd (TOTE) and Typhoon Gaming Pty Ltd (Typhoon) today announced that they have signed a Heads of Agreement (pending approval from the Tasmanian Government and final contract execution) for the licensing and installation of the Typhoon software platform, which will replace TOTE's legacy Alfa system.
TOTE's Core Wagering Replacement (CWR) programme was initiated in 2009 and, following a tender process, Typhoon was chosen as the Preferred Supplier in October 2010. The parties then conducted a Proof of Concept over Christmas and New Year. On May 11th 2011, the project kicked off and the parties are now fully engaged on the project.
Craig Coleman, TOTE CEO, stated. "We will replace our wagering back-end with Typhoon and change the business processes in the operations and front-end sales channels as well. Typhoon is a new, agile technology platform that will change the way we serve our customers globally. We will be a genuine 21st century customer service business. This means more products to customers sooner, and delivery at the right cost."
Typhoon CEO, Nicholas Plowman said. "We will deliver the software in the wagering back-end and across all the sales channels, including web, mobile, self-service / operator terminals and call centre. We will also provide Typhoon and Java training for TOTE's software engineering team so that TOTE can support and enhance its own sales channels going forward without incurring hefty fees."
"The project is coming together and we will keep our customers informed," Coleman said. "We have brought in change management specialists to drive through business change at TOTE and we are well equipped to tackle the Typhoon implementation. We will become a wagering market leader."
"From the TOTE Board to the software engineering team, everyone is engaged on this project. Obviously we are excited by the deal but especially by the approach TOTE has opted to take in adapting its business processes to accommodate a modern betting system in Typhoon. It is a forward thinking approach to wagering IT." Plowman said.