Kirramosa Wins Thrilling Oaks
Details

Published: Thursday, 07 November 2013 16:38
The Crown Oaks at Flemington today produced a thrilling finish with inches between the first three placegetters, Kirramosa, Zanbagh and Solicit.
And connections of Zanbagh seriously considered throwing in a protest before giving up on the idea.
Triple dead heat coming up?
Glen Boss on Solicit set a nice even pace in front which allowed him to dictate the race until well into the straight. Blake Shinn on Zanbagh tracked him all the way and sent the little filly out to challenge at the 400 metre mark.
As she did on Saturday, Kirramosa, with Nash Rawiller replacing Tom Berry came from off the pace to chime in at the 200 metres and brushed with Zanbagh as she went to the lead.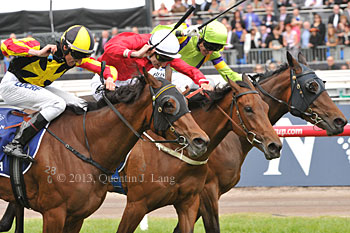 Kirramosa (outside) wins from Zanbagh (middle) and Solicit
Zanbagh's trainer Guy Walter viewed the stewards patrol video before deciding against a protest.
"We did brush and there was a bit of interference", Walter said.
"But we had plenty of opportunity to come back at the winner and we couldn't beat her so I don't think it made any difference to the result."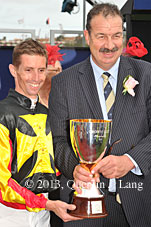 Nash Rawiller & John Sargent
Winning trainer John Sargent said:
"We needed every yard of it (Flemington straight) but the way she won today was very good."
"The inside horse was coming back strong but it was very good riding from Nash, he judged it perfectly."
Kirramosa and Crown Oaks rug
"She probably got headed inside the 150 metres but really fought hard", Rawiller said.
Sargent expected that Kirramosa would be back last as she was in the Wakeful Stakes on Saturday but Rawiller had other ideas, settling midfield.
"She was a bit further forward than I thought she would be but she jumped well so he just put her up there and put her to sleep but the big question today was whether she'd back up."
Rawiller explained:
"She is very brave, very tough and I rode her a little bit against her normal racing pattern although she was able to win her maiden sitting up on the speed."
"I jumped really well and I had a look across and there was no urgency from anyone so just tried to get her into a rhythm and rode her from there and the best stayer has won."
Crown Oaks placegetters
Sargent who has recently set up permanently in Sydney after moving from New Zealand, was thrilled that Alamosa, the sire of Kirramosa had produced a Group 1 winner.
"It's good to get a win for Alamosa because he's the leading two-year-old sire in New Zealand and one of the owners owns Alamosa so it's a fantastic result for the whole (New Zealand) industry."
Kirramosa's Spring mission accomplished Sargent is planning for 2014.
"There's not a lot of her, she's only a light filly but she's got a very good constitution and a great temperament", he said.
"We'll just put her aside now for six weeks and we'll probably target Sydney in the autumn."
Photos: Quentin Lang
Dothraki Withstands Protest
Details

Published: Saturday, 09 November 2013 14:21
Sydney galloper Dothraki withstood a protest from runner up Suavito to retain his win in the Hilton Hotels & Resorts Stakes at Flemington this afternoon.
Beaten by only a long head, James Winks on Suavito fired in a protest alleging interference from Dothraki, ridden by Nash Rawiller over the concluding stages of the race.
Dothraki
Stewards threw out the objection on the basis that while there was interference, they did not think it was of sufficient magnitude to change the outcome of the race.
Dothraki had a little backing from $14 into $12 while Suavito was well supported from $7 into $5. Third placed Consorting, only a long head behind Suavito was also backed from $5.50 to $4.40.
Dothraki
Winning trainer Gerald Ryan has always had a big opinion of Dothraki, comparing him favourably to stable star Snitzerland.
"I've always had a huge wrap on him and he's probably the only horse in the stable that can get anywhere near Snitzerland", Ryan noted.
Dothraki with Suavito (obscured) and Consorting (outside)
Snitzerland ran second in the Dilmah Earl Grey Stakes on Cup Day and Dothraki accompanied her to Melbourne.
"The only race we could find was this so we came down and had a crack", Ryan explained.
Dothraki had been running over sprint distances but Ryan took on board the suggestion of rider Jay Ford to step him up in distance.
"He's just taken a while to put it together and Jay Ford when he rode him the other day suggested that I go to 1400m where there's less tempo", Ryan said.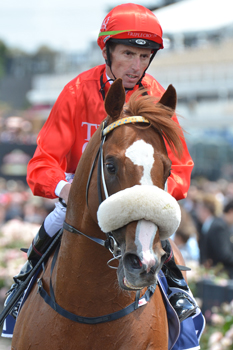 Dothraki with Nash Rawiller
Rawiller has only ridden Dothraki once before when he ran third on the Kensington track at Randwick in early October.
"Full credit to him today because he was stepping up in trip but Gerald had him in terrific order", he said.
"We got across outside the leader and raced beautifully off a moderate tempo and he was very strong to the line."
"He was a bit lost but when the horses came out him he found more."
His job done for the Spring, Ryan plans to spell Dothraki.
"He'll be on the float to go home tomorrow night because I still think the horse has got a lot to learn."
Photos: Fiona Tomlin, Quentin Lang